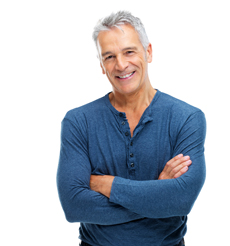 Restoring Your Oral Health in NYC
While preventive dentistry can help reduce your risk of developing problems, it doesn't always stop them from occurring. Some patients, often because of improper oral hygiene, medications, or certain health conditions, are simply more vulnerable to developing dental problems. When issues such as tooth decay arise, Dr. Leibowitz is prepared to treat them promptly with the most modern tools and materials available. As no tooth replacement method beats the strength of your natural teeth, your Astoria general dentist will do everything possible to treat you with methods that require the least amount of tooth reduction.
Restorative Dental Services
For a variety of gentle yet effective restorative dental services in Queens, make an appointment with Dr. Leibowitz today. In the case of cavities that have not infiltrated the tooth pulp, Dr. Leibowitz offers fillings or crowns to help strengthen and protect teeth after the decay has been removed. If decay or trauma has exposed the soft center, or pulp, of your tooth, he can remove infection and debris inside the tooth with a root canal treatment. While Dr. Leibowitz always tries to save natural teeth when he can, sometimes infection or a deep fracture that affects the tooth root makes this impossible. In the event that your tooth cannot be saved, he will precisely extract it to help you maintain optimal health. Empower yourself with knowledge about the restorative dental services Dr. Leibowitz provides by exploring our website.